How to Insert a Spiral Belly Ring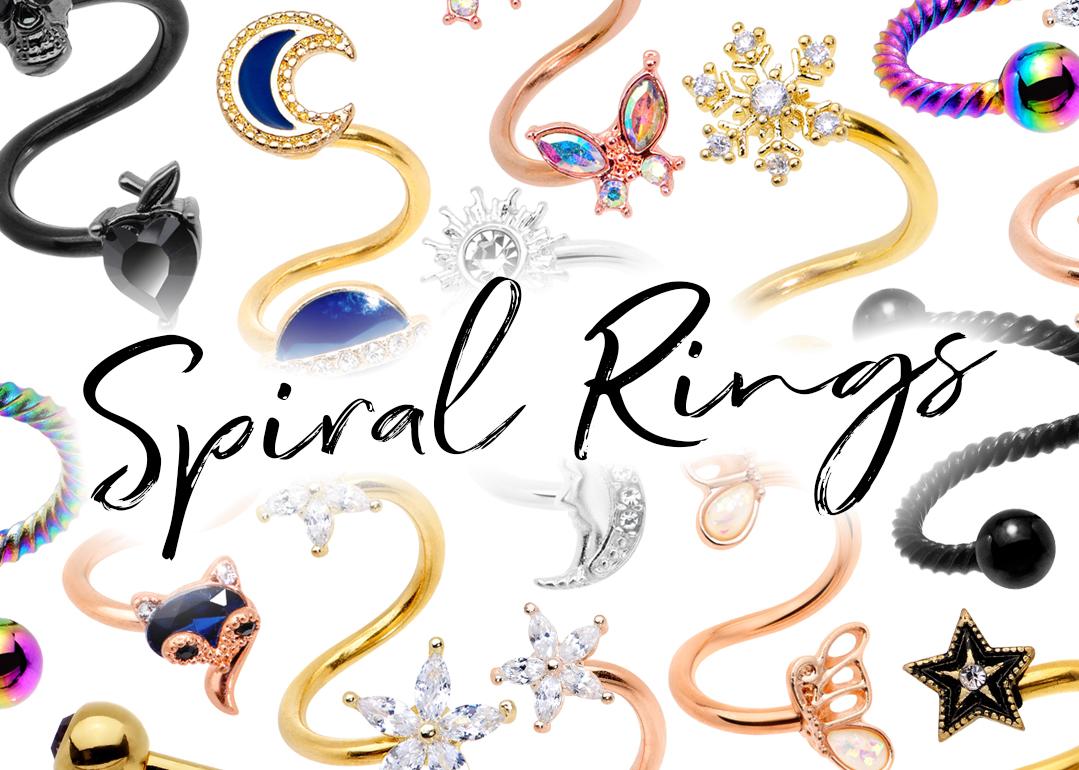 A spiral belly ring is a unique kind of bellybutton ring worn in a navel piercing. Instead of the typical curved barbell or "j-bar" style, a spiral belly ring is more of a "twisted" barbell that hangs horizontally in the navel. The end look is a side-to-side aesthetic, as opposed to a typical, vertical dangle.
Due to it's interesting shape, a spiral belly ring is a flattering way to accentuate your navel piercing. Its twisted shape can help to relieve weight or pressure on an otherwise sensitive belly piercing. Depending on your personal anatomy, you maybe able to wear a spiral ring in your conch or helix - but we recommend wearing these rings in your navel.
Body Candy has the biggest and best selection of body jewelry in the world, including a gigantic selection of cool spiral belly rings. Belly button jewelry is one of our many areas of expertise, so we want to educate you on the many different ways you can wear jewelry in your navel. Here's everything you need to know about this popular jewelry!

Does a navel piercing hurt?
Yes! During the procedure, a professional piercer will be pushing a needle through the skin around your belly button. Since the belly is a fleshy piercing, you will feel a quick, sharp pinch... But it will be over before you know it!
How much does it hurt?
Pain tolerance is subjective. Our opinion - if you can handle a quick pinch and some long-term patience during the healing process, your navel piercing will be happy and healthy before you know it.
A spiral belly ring is more of a "specialty" fit, so you will initially be pierced with something more generic, like a plain barbell. Either way, be sure to follow your professional piercer's aftercare instructions for a quick and healthy healing time. Once your piercing has fully healed, you can head back to your piercer if you need help inserting a spiral belly ring.
Important note: NEVER get pierced with a piercing gun. Piercings should always be performed with a clean needle by a professional, licensed piercer.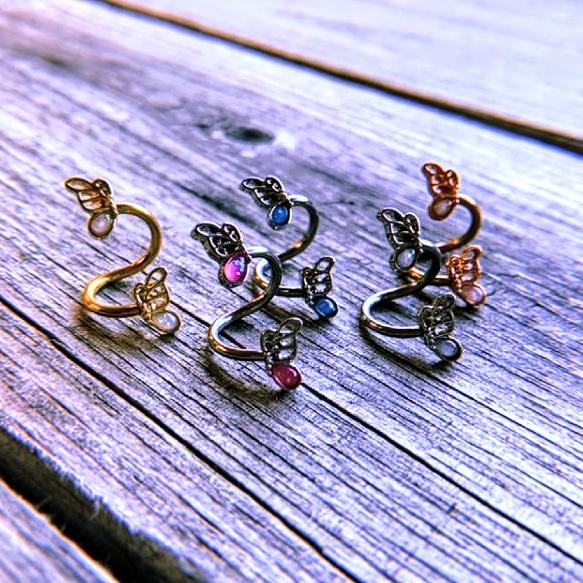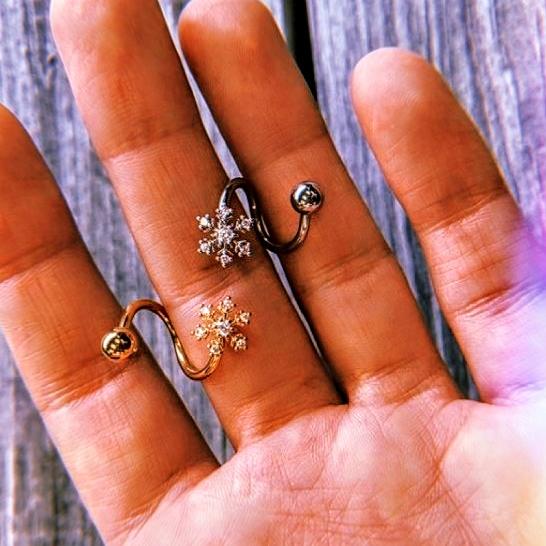 How Long Do Belly Piercings Take to Heal?
A belly button piercing is located in a fleshy area with lots of blood supply, so you might start seeing the outside of the piercing appear healed up by as quickly as (4) to six (6) weeks... Even so, your piercing is probably still healing on the inside.
Everybody's healing process will be different, but you will more than likely want to give it at least two (2) to three (3) months to fully heal. To be safe, you should plan for at least six (6) to eight (8) months.
Before you try to swap out your freshly pierced belly ring, make sure you have completely healed to avoid the possibility of injury or infection.
Disclaimer: If you are experiencing pain, discharge, or any other medical complications, contact a medical professional AND your professional piercer ASAP.

How Do I Insert a Spiral Belly Ring Into My Piercing?

If you're confused, don't feel bad! Lots of pierced and modded individuals get overwhelmed by the spiral shape of these belly rings. They may look intimidating, but these twister rings are actually very simple to insert and very comfortable to wear.
1.) Sanitize -  Wash your hands. Gently wipe off your new jewelry. Use a sterile saline solution to clean your piercing site. A clean piercing is a happy piercing!
2.) Remove your current belly ring -  With your freshly washed hands, unscrew the ball end of your current belly ring until it comes off. Gently slide the barbell out of your piercing. Be careful not to lose the ball!
3.) Prepare the spiral ring for insertion - Remove one (or both) ends of the jewelry - this may make things less confusing. You may also want to gently dampen the spiral ring and your piercing site with some sterile saline solution before insertion for some extra help with lubrication.
4.) Insert the spiral ring - Position one of the ends at the bottom of your piercing fistula and insert the spiral ring. Once you've inserted the bar, gently spin the jewelry through your piercing. For more complex belly spirals, you may have to follow the curve more carefully.
5.) Reattach the ends - Spiral belly rings come in many shapes and sizes - for those with simple ball ends, screw them back on however you see fit. For those with more decorative ends, mix and match in the way that is most aesthetically pleasing to you.
Written instructions not enough? Check out our simple instructional video below. ♥
What other kinds of belly rings are there?
Belly rings come in lots of different shapes, colors, metal finishes, and styles. Spiral belly rings are certainly a unique kind of navel jewelry, but there are lots of other options for individuals looking for a different look.
1.) Classic Barbell - The most "classic" type of belly ring is a simple barbell - this comes in many colors, metal finishes, styles, and materials, and is often studded with gems or other decorations. Classic rings most commonly come in a "banana" shape, but you may also find them in the "j-bar" style. This is a simple, no-fuss way to adorn your navel piercing and what most people typically think of when they hear "belly ring."
2.) Dangle Belly Rings - Belly rings can also come with a dangling element. While the part of the jewelry worn inside of the piercing (the barbell) is the same as a classic belly button ring, the dangling element offers a nice visual aesthetic in the form of a charm, dainty chains, or even a chandelier.
3.) Bioplast Retainers - There may be times in your life when you need to downplay your piercing. If you need to hide your jewelry for a family, school, or work function, or simply swap out your metal jewelry for a sporting event, travel, or medical appointment, a bioplast retainer is your best bet. While it's not completely invisible, a bioplast retainer is clear, flexible, and biocompatible. For more information, check out our blog on Bioplast Retainers.
4.) Pregnancy Belly Button Rings - If you're pierced and pregnant we've got good news - expecting mothers don't have to give up their belly button piercings. Pregnancy belly rings are extra-long, created specifically to keep up with your growing baby bump. As always, check with your doctor first to make sure you don't experience any complications.  
Belly Button Piercing Aftercare
Here are some helpful tips to help you heal your belly button piercing in the safest and quickest way possible:
1.) Don't Touch It - It's tempting, we know! While it might seem like a good idea to fuss with your piercing (i.e. touch it, spin it, push it up and down in your piercing, rotate it), the best course of action is just to leave it alone. Messing with your piercing will result in an increased chance of irritation, infection, migration, or scar tissue.
2.) Be careful dressing and undressing - It's easy to let it slip your mind when you're tearing off your clothes to hop into bed after a long day... But snagging your shirt on your belly ring could injure an otherwise healthy, healing piercing. Take your time pulling off your t-shirt and be careful to avoid snags on loosely-knit sweaters.
3.) Saline solultion only - Avoid any harsh topicals like alcohol, peroxide, Bactine, neosporin, vaseline, or anything containing the chemical triclosan. You'll also want to avoid swimming in public pools, ponds, or hot tubs while healing up. A simple, sterile saline solution is your best bet - learn more about creating a sea salt solution here.