What is a Septum Clicker?
Understanding Septum Clickers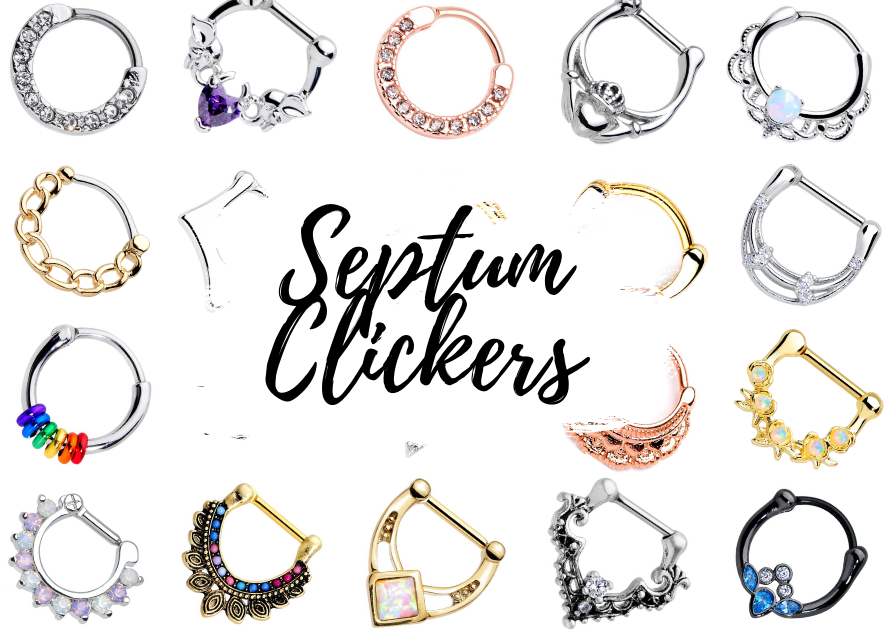 Septum clickers are an excellent way to show off your fantastic septum piercing. With so many options to wear in your nose, what makes septum clickers so great? When it comes to body jewelry, it always is truly a personal preference. But septum clickers offer a unique aesthetic and an interesting design that makes them perfect for just about any nose piercing.

What exactly is a septum clicker though? How does it differ from a segment ring, a horseshoe ring, or a BCR? Is it easy to put in and take out of your septum piercings? It can be intimidating to purchase a new type of jewelry without knowing exactly how it's going to work... Which is where we, Body Candy Body Jewelry, come in!
Body Candy is all about selection... We pride ourselves on having something for everybody, including our huge variation of septum clickers. We have gold septum clickers, rose gold septum clickers, silver septum clickers, anodized titanium septum clickers, and lots of other types of jewelry to suit you and your nose piercings.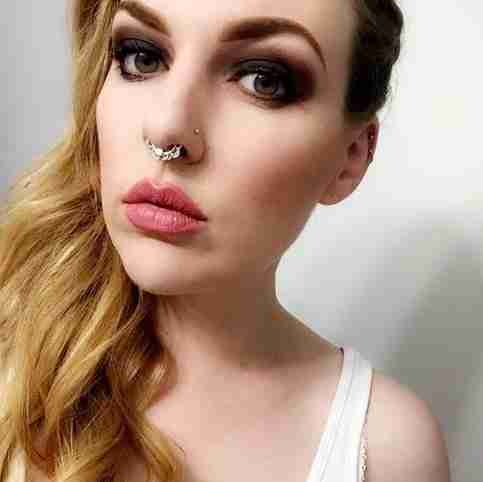 Why choose Clickers?
There are lots of ways to decorate your pierced septum... So why would you choose a septum clicker? Here are a few reasons we'd recommend trying out this unique type of jewelry.
1.) Easy to wear - Clickers aren't complicated! Septum clickers are simply rings with a hinged segment that can be opened and shut. Pull gently upward on the septum clicker to unlock it, insert it into your septum piercing, and then re-click to close.

2.) It's flexible - Not flexible as in "bendable." We mean you can wear it in multiple piercings! Septum clickers also look amazing as helix earrings and daith earrings, assuming your ear has the correct anatomy and is large enough to accommodate a clicker.

3.) They Look Amazing - There's something to be said about an understated septum ring or a horseshoe septum ring... But septum clickers have a tendency to be a bit more ornate. Whether they are decorated with intricate lace, chains, gems, or opals, septum clickers often make more of a statement piece than a simple septum ring.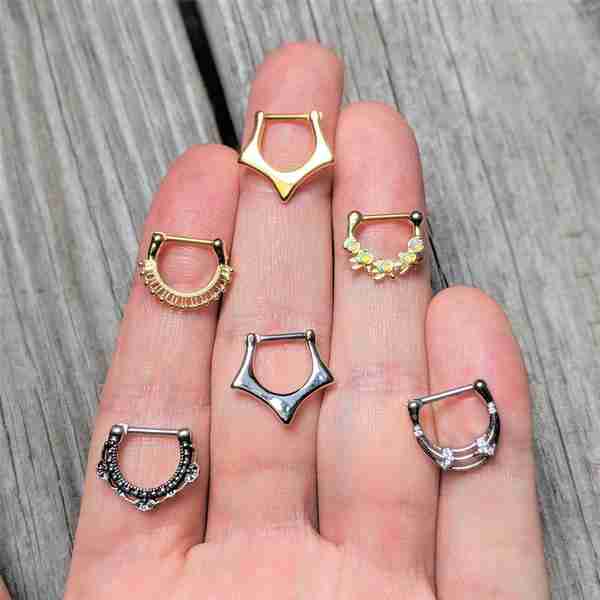 How Do I Insert a Septum Clicker?

Putting in a new septum clicker is easy! Here are a few simple steps for making sure your clicker goes in with no worries.

Before you start: make sure your septum piercing has healed up completely! Changing your jewelry before you're ready can irritate the piercing site, which could lead to further complications down the road.

1.) Clean your jewelry - Take a moment to wash your hands - no slacking! While you are washing your hands, take a clean cloth and thoroughly wipe off your new septum clicker. You may even want to gently rinse it off with some saline solution.

2.) Remove previous jewelry - always listen to your body! If you try to remove your septum jewelry and start to feel pain, you're probably not ready to swap out.

3.) Get your clicker ready - Gently pull upward on the "arm" of the clicker until it pops open. If you're worried about sliding the jewelry in, take a second to moisten the clicker and your piercing site with a bit of the saline from earlier. 

4.) Insert the clicker - Position the end of the barbell/ring at the entrance to your eyebrow (typically, the lower hole). Once you find the piercing hole, carefully slide it through your eyebrow.

5.) Click the clicker closed - Final step - put a small amount of pressure on the arm to click it back into place. You should hear a tiny "click" or feel a small pop when the jewelry aligns into place. Now you're wearing a cute new septum clicker!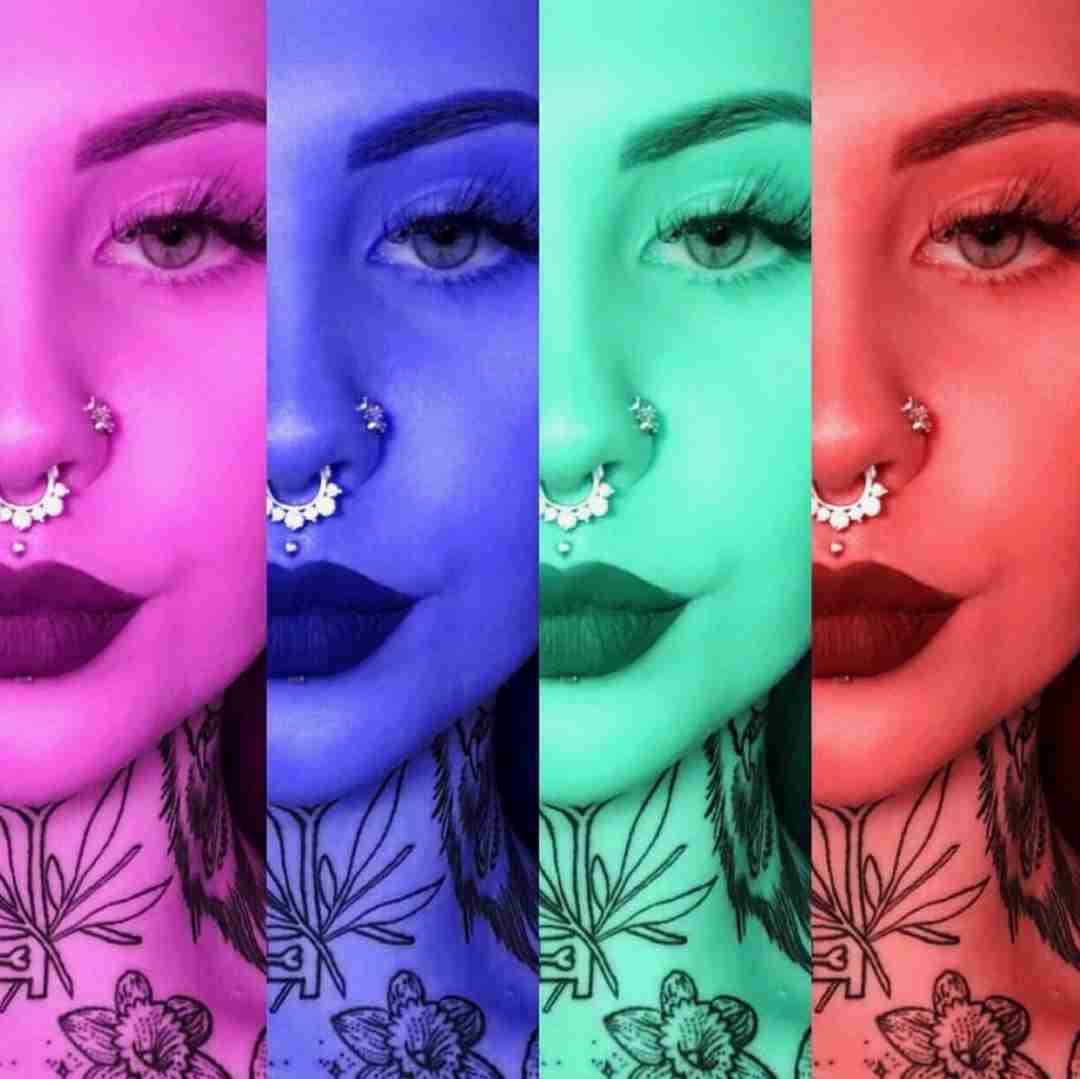 Does A Septum Piercing Hurt?!


Yes! All piercings hurt on some level. A needle is being pushed through your body. It's gonna sting a bit.
When it comes to septum piercings though, we have good news! There is a small strip of skin where a septum piercing is placed known as the "columella." As long as your piercing is performed through the columella, it should be pretty low on the pain scale, maybe a two or three.

Some people's nose lacks the columella, in which case, a septum piercing would technically be a cartilage piercing. If your piercing goes through the cartilage of your nose, it would be a much more painful experience with a much longer healing time.

Remember though that everyone's body is different! Because of that, everyone's piercing experience will differ slightly. Some might think a septum piercing is unbearable... But we think you'll be just fine! 
Live Septum Piercing Experience
Check out our very own Alley as she gets her septum pierced in a piercing studio.