Understanding Opals: Organic, Synthetic, Precious & Common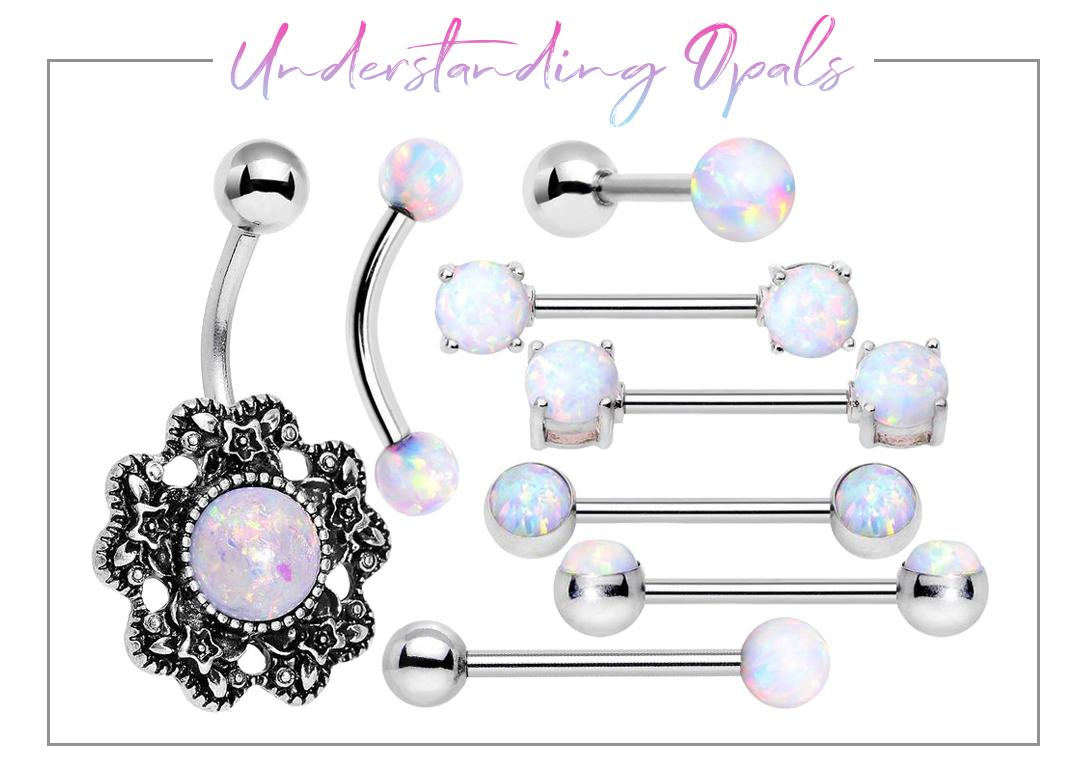 Opals are fiery and beautiful stones that shimmer with a iridescence that makes them perfect candidates for body jewelry. The nice thing about opals is that they are a relatively inexpensive stone, especially considering their natural beauty.
But not all opals are created equally... You may have noticed that there are two different kinds of opals, "real" or "natural" as opposed to "synthetic." There are also materials that are reminiscent of opals, but something different altogether - like opalite and imitation opals. 
Sounds confusing, but not to worry - since Body Candy stocks everything from opal-studded belly button rings to shimmery opal nipple bars, we're here to educate you on all things opal. Here's what you need to know about this fantastic stone!
Synthetic Opals
First and foremost, don't be turned off by the word synthetic. "Synthetic" may sound like a synonym for fake, but it's actually not that simple.
Synthetic opals are synthesized in a lab, but they aren't necessarily "fake." This is an important distinction; while synthetic opal is man-made, it has chemical and physical properties that are identical to a genuine opal found in nature. Most importantly - synthetic opals still have the "play-of-color" qualities that make genuine opals so desirable.
You might also come across an imitation opal, which is a completely different material. Imitation opals are often simply glass or resin paired with tiny flecks of foil or another eye-catching material. They are still very beautiful, but are not technically opals.

The best thing about synthetic opals? They are just as beautiful as precious opals, but are very affordable.
How to identify a synthetic opal:
- Do the opal's fiery features look uniform? Do the flecks in the opal appear square-ish in shape and consistent throughout the entire stone? As a general rule of thumb, synthetic opals have a much more uniform structure than natural opals, resulting in a pleasing, almost tessellating pattern.
- Do you notice long columns of color when you look at the opal from the side? This is another sign of its uniformity, indicating it's a synthetic opal.
- Is the opal streaked with cracked, black lines? These are called "inclusion lines" and are yet another indication of a synthetic opal.
- Is the back of the opal sandy in texture? This is a strong indication that the opal is natural.
Real Opals
Real opals are obviously very sought after. Although there are many different kinds of opals, they can all be categorized into one of two categories: either a "common opal" or a "precious opal."
Common opals do not have the play-of-color quality that most people might think of when they hear the word opal. They do, however, come in a variety of beautiful colors, including pink, purple, blue, yellow, green, and a wide spectrum of pastels.
Precious opals, on the other hand, are defined by their unique, translucent quality, which ultimately makes them so desirable. Their eye-catching "fire" traits come in almost every color of the spectrum. These rainbow hues pair nicely with the dominating base color of the opal - typically white.
Here are some more fun facts:
- Genuine opals are a form of silica and are considered a "mineraloid," not a mineral.
- The hardness rating of opal is anywhere from 5.5-6.5 on the Mohs gemstone scale. This means opals are relatively soft - slightly tougher than glass.
- Opal is the birthstone for October - good to know for your Libra and Scorpio friends!
- Opals are the national gemstone of Australia.
Opals in ALL of Your Piercings
Now that you're an expert in identifying the different kinds of opals, it's time to outfit your mods with some fresh new gear!
We love the one-of-a-kind look of opals, but we also love keeping body jewelry reasonably affordable. We offer all kinds of synthetic opal body jewelry for any modified individual looking for that eye-catching look. Try one out in a septum ring or a navel ring. Check out some more of the collections we have below.
Don't Forget About Opalite!
There are a few things to consider when hearing the term "opalite." Opalite is another man-made material - it is actually glass. It is aesthetically pleasing like a natural stone, making it an excellent material to use for plugs, weights, hangers, and as stones in nose rings.
Although it is beautiful and translucent like an opal, it lacks the mysterious "play of color" that is visible in genuine and synthetic opals. On the other hand, it is often flawless, which allows for a similar look with a different aesthetic.
Snapchat: bodycandy.com
TikTok:  @bodycandy