Understanding Helix Piercings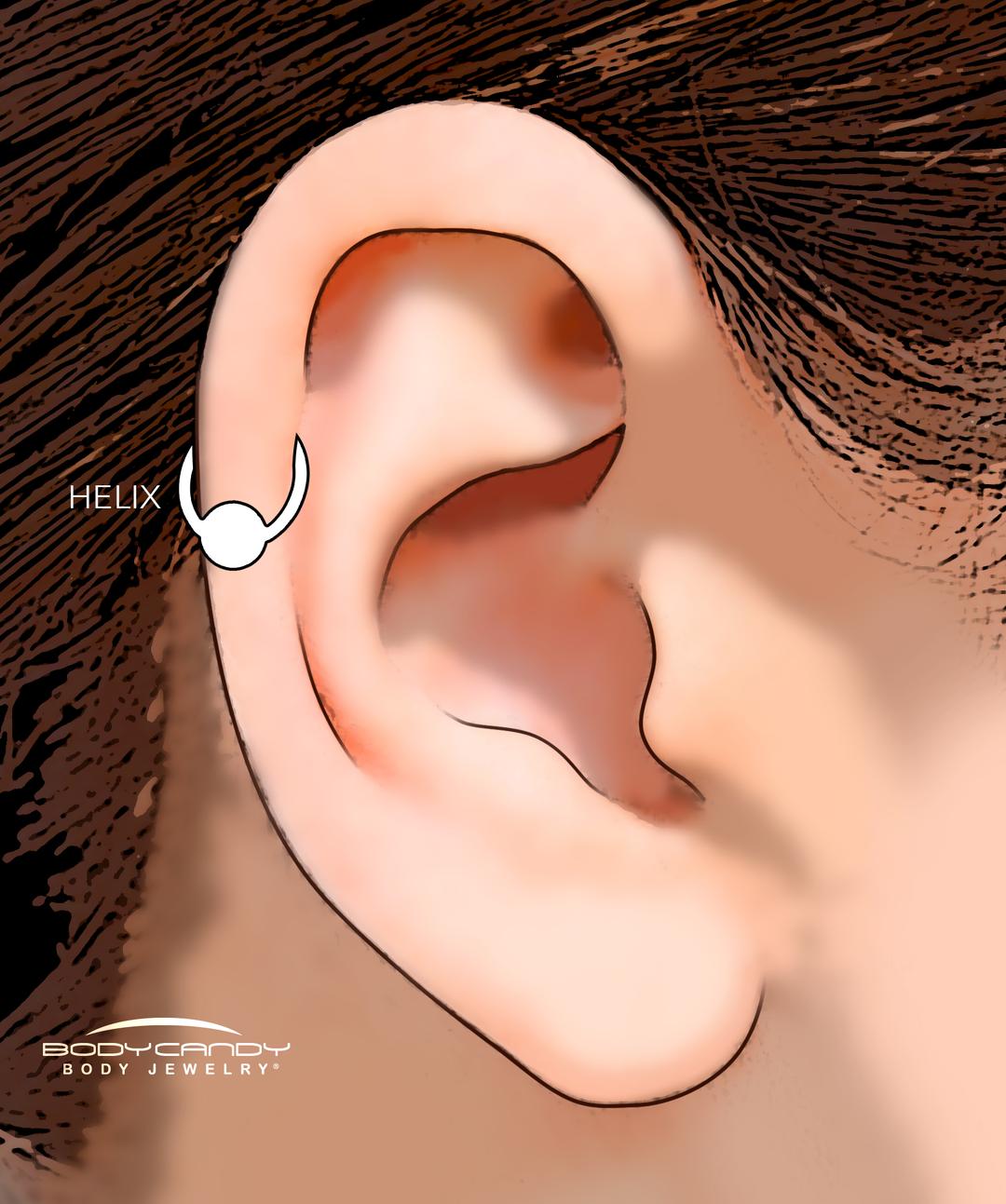 A helix piercing is a type of cartilage piercing located in the upper ear. The helix is typically adorned with a closure ring, a BCR, or a cartilage stud, but can even accommodate septum rings and clickers, labret studs, or other unique types of jewelry.
Previously known simply as a "cartilage piercing," this type of piercing is now referred to as a "helix" in reference to the technical name for the upper ear cartilage. Helix piercings are also commonly done in pairs or triplets - if so, they are referred to as "double helix piercings" or "triple helix piercings."
Body Candy has the biggest and best selection of body jewelry in the world, including jewelry that is perfect for your helix piercing. Cartilage piercing is one of our many areas of expertise, so we're here to educate you on all things helix. Here's what you need to know about this popular piercing!

Does a helix piercing hurt?
If we're being honest... Yes! Any piercing experience will come with some sort of pain - your body is being punctured with a needle, after all! 
On the bright side, since a helix piercing is a cartilage piercing (and not a fleshy piercing like an earlobe), you might simply experience more pressure as opposed to a sharp, stinging pinch.
... How much does it hurt?
Everyone's ear anatomy and pain tolerance is different... Some individuals think getting pierced barely hurts at all. Our opinion - if you are tough enough to tolerate a few seconds of discomfort, you'll be pierced and proud before you know it!

For some, cartilage piercings (helix, industrial, daith, etc.) have a tendency to hurt a bit more than a fleshy piercing. For others, instead of a sharp pinch, a helix piercing will feel like more of a deep pressure sensation.
Important note: NEVER get pierced with a piercing gun. Piercings should always be performed with a needle by a professional, licensed piercer.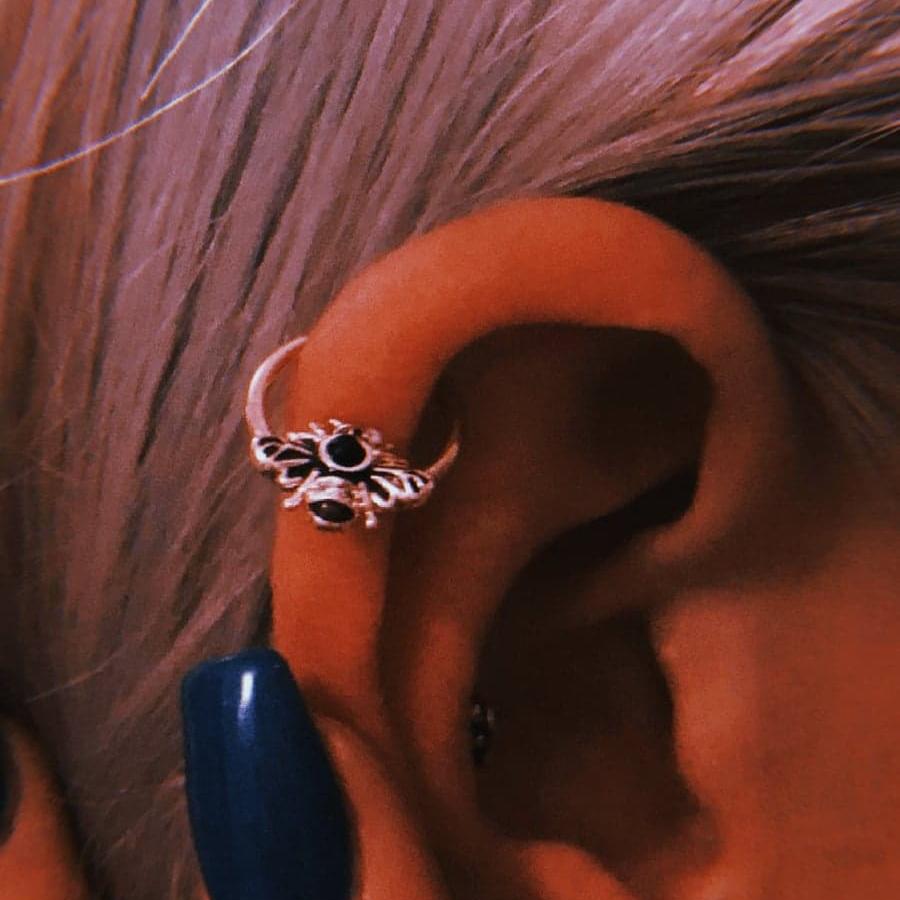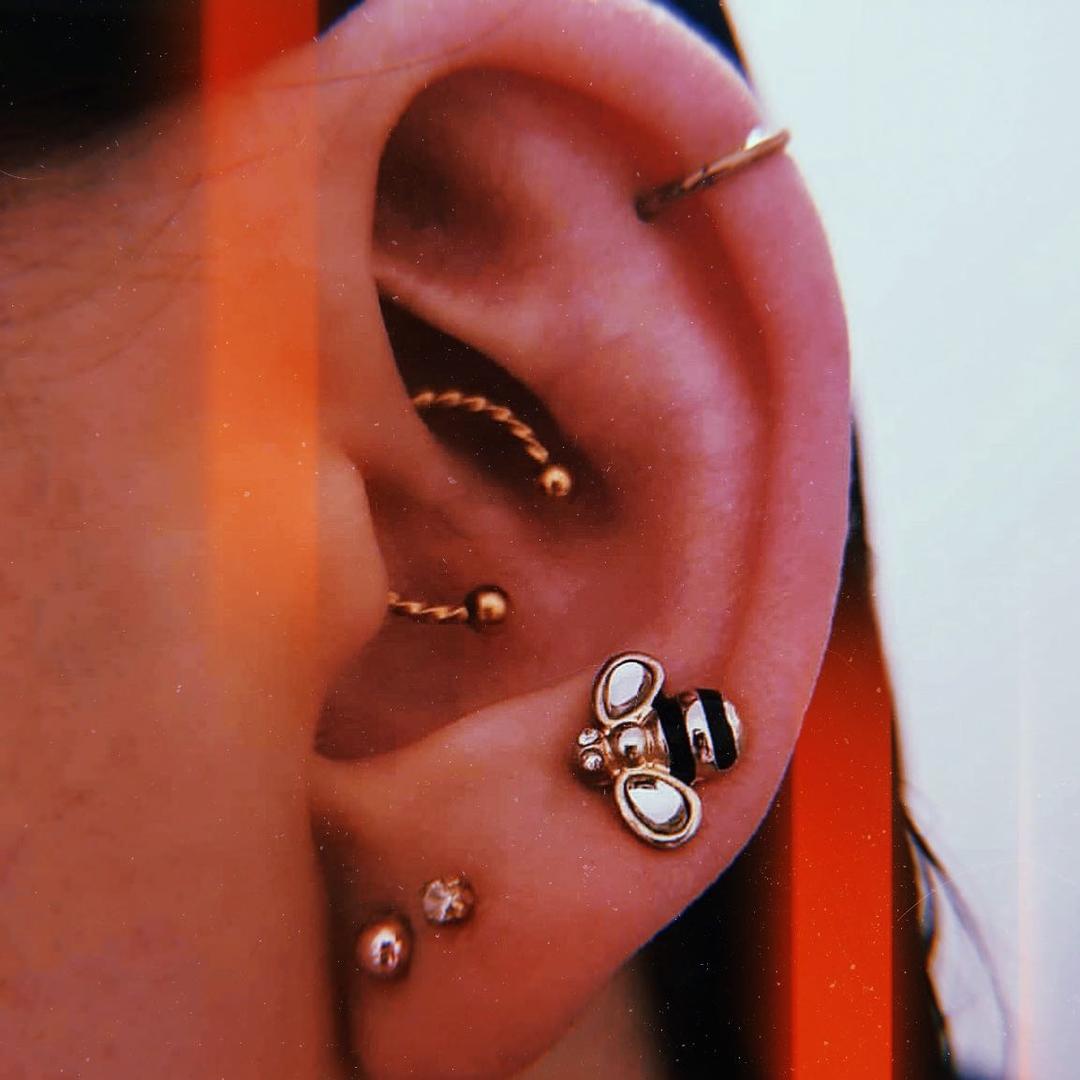 How Long Do Helix Piercings Take to Heal?
Due to its location in the ear cartilage, most experts will say that helix piercings take two (2) to three (3) months to heal... More likely, you'll find that your helix piercing can take up to a year to be totally healed up.
In terms of anatomy, cartilage receives less blood flow than fleshier parts of your body (think navel, earlobe, etc.). If you are considering getting a helix piercing, you should also be ready to commit to a potentially lengthy recovery time.
What if I get a piercing bump?

Cartilage piercings, like the helix, are prone to something known as "hypertrophic scarring." During the healing process, you might notice a pink or red bump forming around your piercing site. Hypertrophic scarring often occurs when pressure is placed on the piercing, i.e. sleeping on a new piercing, pushing a cell phone against it, or a tight neckline snagging onto it while getting dressed.
These bumps can be treated by gently cleansing them with a sterile saline solution or a warm, chamomile tea bag compress. If you keep the piercing clean and are committed to a healthy healing process, you might notice it disappear with no treatment at all.
Disclaimer: If you even think you are developing complications, immediately consult a medical professional AND your professional piercer.

Helix Ear Piercing Aftercare

Just got your helix done? Cool! Check out a few of Body Candy's tips to help your helix piercing heal as effectively as possible.
1.) Don't sleep on it!
Are you a side-sleeper? Are you capable of sleeping on your back or belly? If you're wondering why those are relevant questions, sleeping on a fresh helix piercing (or any piercing for that matter) is a no-no! When it comes to healing up, it's important to avoid putting any unnecessary stress on your piercings. For example, if you typically sleep on your left side, you should consider getting a helix piercing in your right ear.

Aside from sleeping on your piercing, you should avoid any situation that may irritate, put pressure on, or complicate your healing process. Good things to avoid include hats or beanies, large headphones, hoodie hoods, or other fashion choices that may complicate your recovery. You should even be mindful when using your phone.
2.) Be careful with your hair!
If there is any sort of length to your hair, be careful not to snag it on your brand new helix earring! Hair is a notorious snagger when it comes to fresh piercings - not only can this really hurt, it could also significantly complicate your healing time. In worst-case-scenarios, these accidental snags could lead to an unfortunate infection, piercing migration, or even piercing rejection.
If you're worried about a snag, consider wearing your hair up - a messy bun or ponytail work wonders. A short hairstyle works too.
3.) Give it time to heal completely!
We get it - you got your helix pierced for a reason... And half of the fun of being pierced is customizing your piercings with fun new jewelry to create that personalized look... But as with any piercing, it's incredibly important to let your helix heal properly before you try changing your jewelry in and out.
Before you make any decisions on your own, we recommend heading to a professional piercer - they will help you select a high-quality metal piece that will help you heal thoroughly and effectively. Any fancy aesthetic choices (like a dangle element or more detailed designs) could add extra weight piercing and will contribute to the potential of getting snagged on your clothes. 

A helix piercing isn't quite as invasive as a daith, but it causes a small amount of trauma to your anatomy. Trauma is a part of any piercing, but due to a helix's status as a cartilage piercing, this wound will take longer to heal. Don't be tempted to change or your jewelry out for at least three (3) months. Keep it fresh and clean with a sterile, chemical-free saline solution. Once your ear feels healed up, it's time to head back to your piercer for their expert advice.
What is a Forward Helix?
Helix piercings come in a variety of different styles. They can be layered up in doubles and triples, but they can also be located in different areas of your ear cartilage.
A "forward helix" piercing is another variant of this popular piercing. Instead of being pierced around the outer rim of the ear (closer to the back of your head), a forward helix is located near your temple, right above the tragus.
An industrial piercing is also technically two separate helix piercings. An industrial ear piercing can be easily recognized by its unique jewelry, an industrial bar, which looks like a scaffold across the upper ear.
Finally, helix piercings are always located in the upper ear - it's easy to confuse them with the tragus, auricle, conch, or daith piercings, which are all located in the middle ear. For more information about all the different kinds of ear piercings - check out our Ear Piercing Dictionary.