Understanding Keloids:
What, How,  & Why?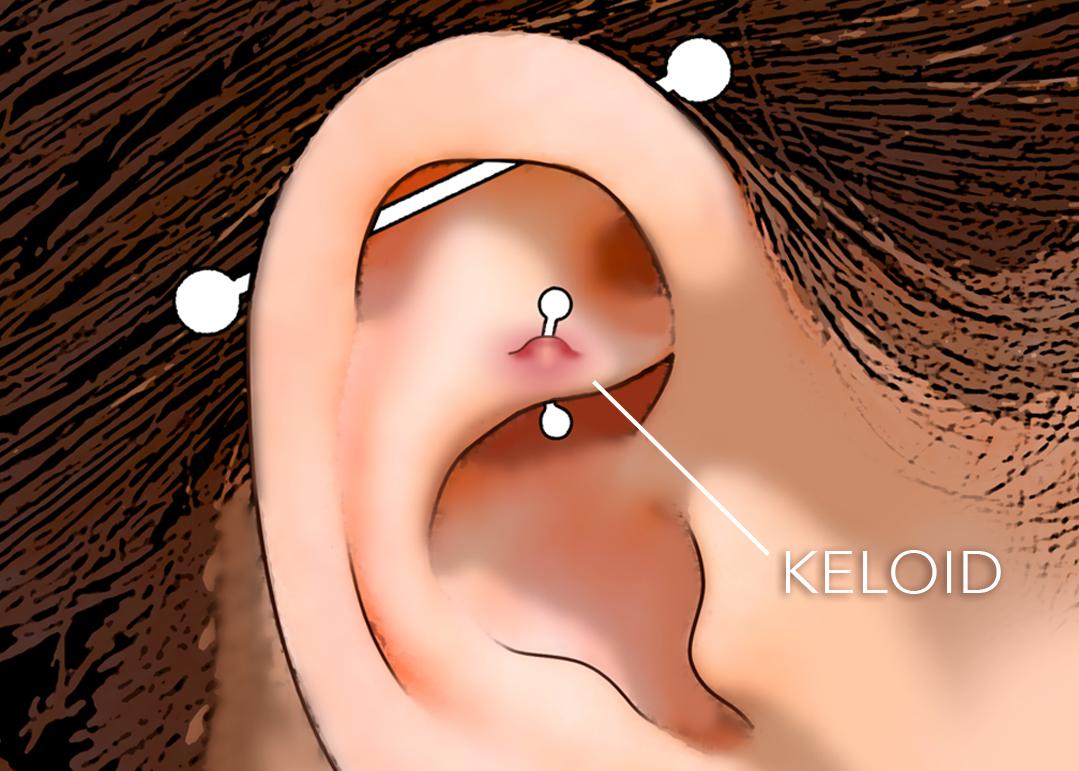 Most of us who have piercings have had that moment; you find a lump or a bump on your fresh new piercing that looked fine just a day or two ago. You panic, wondering "What is that? Do I need a doctor? Do I need to take my new jewelry out?"
You've heard people talk about keloids but don't know exactly what they are or how they're treated... Body Candy is here to help you with some helpful information about taking care of yourself and your body jewelry!
Keloids are a type of scar. Unlike the typical scar you'd normally get from an injury, keloids are firm, raised, and can be itchy or tender to the touch. They can be discolored, ranging from a light pink to a dark brown.


Another way that keloids differ from a typical scar is that they may not stay confined to the site of the injury. They are, in essence, an overgrowth of normal scar tissue and can continue to grow for months or even years after they first appear. Keloids can also appear months after the initial injury has occurred.
Keloids are very different from "piercing bumps" which are caused by wound debris getting trapped in the skin. These are most frequently caused by the use of antibiotic ointments or a lack aftercare. Bumps can also fluctuate in size, feel softer to the touch, are smaller, appear directly on the piercing site, and are most commonly found on nostril piercings.
Why do keloids happen?
It's not something you did and it's not because of something your piercer did. When your body is injured, cells called fibroplasts produce collagen to strengthen the skin. In the case of keloids, these cells start working too hard and produce more collagen than necessary. This results in too much scar tissue and a keloid forms.
Some people are more prone to this issue than others. People who have darker skin tones are fifteen to twenty times more likely to develop keloids. This is particularly true for people of Asian, Hispanic, or African descent. They also tend to run in families; you're at higher risk of developing a keloid if a relative has had keloids. Your risk of developing a keloid is lower if you're over the age of thirty. Who knew there were perks to aging? Finally, out of all the most common piercing sites, your earlobes are the most likely to develop a keloid.
How can you prevent keloids?
Unfortunately, you really can't. The best way to prevent a keloid is to not engage in behavior that causes them, such as piercing or plastic surgery. In some cases, keloids can appear without there having even been an injury. So, if you've had a keloid in the past and choose to go ahead with getting pierced, you should be aware that you may get another one. If you fall into the higher risk categories then you should be prepared for the possibility of developing a keloid. Getting a piercing, no matter how clean and qualified your piercer is or how well you take care of it, is not a risk-free activity.
Okay, so you've got a keloid. Now what?
First and foremost, you should always consult your doctor for professional medical advice. There are multiple ways for your doctor to treat keloids. These include:
·         Corticosteroid injections: These are safe but they can also be a bit painful. They're given once every four to eight weeks. They can help flatten the keloid but unfortunately, they can also worsen the redness.
·         Surgery: Although surgery can completely remove a keloid, this comes with its own set of risks, as creating a new wound can simply create a whole new keloid.
·         Laser Treatments: Pulsed-dye laser treatments can help to flatten the keloid and reduce the discoloration. However, multiple treatments may be necessary and the cost per treatment can be high. They are also not commonly covered by most health insurance plans.
·         Silicone Sheeting: This requires wearing a special silicone gel bandage on the keloid continuously for several months. While sometimes effective, this is obviously a huge commitment that can simply be unrealistic for many people.
·         Pressure Earrings: These are pretty much what they sound like. They're special earrings that put pressure directly on the keloid. However, most people find them to be very uncomfortable and they have to be worn for 16 continuous hours for up to six months to a year
·         Other Treatments: like Cryotherapy (freezing the affected area) and Ligature Treatments (tying a band around the keloid until the keloid eventually falls off) exist, but they are generally used in conjunction with other treatments or are less effective on larger keloids.
Always remember, if you develop a keloid or any other medical issue: CALL YOUR DOCTOR.
Good luck and happy piercing!
Written by: Alyssa Walter
Snapchat: bodycandy.com
TikTok:  @bodycandy