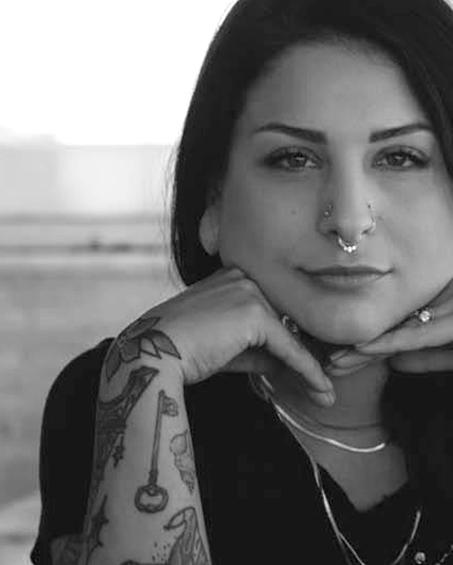 Dear Alley is our weekly advice column for pierced, inked, and amazing individuals (and everyone else too!) who might need a nudge in the right direction. Relationships, mods, or whatever, Alley's got you covered :).
Do you have a question for Alley, submit it to DearAlley@bodycandy.com for your chance to get featured!
Disclaimer: Body Candy is only here to give you fun and helpful advice and information when it comes to getting pierced. Always consult a professional piercer to make sure a new piercing is right for you!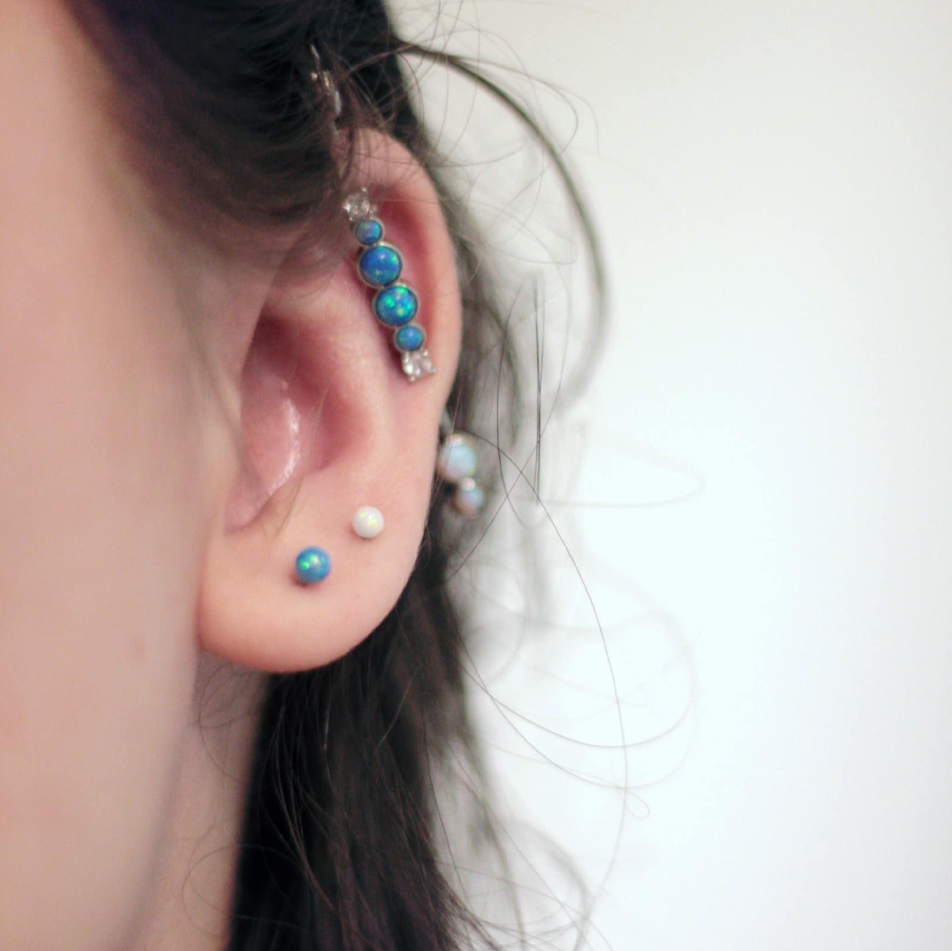 Dear Alley,
I have an industrial piercing in my right ear lobe and its been over a year since I got it, but it still hasn't healed.

I have tried alcohol, tea tree oil, and witch hazel. What should I do?
Best,
- 
Brina
Alley: Hi Brina!

Cartilage piercings like the industrial are notoriously tough to heal. These piercings often take up to a year or more to completely heal, even if you're taking extra good care of it.
Just to clarify - an industrial piercing is located in the upper ear, not the actual earlobe... The ear lobe has a lot more blood supply than the upper ear cartilage. More  blood supply = faster healing times. If you have an earlobe piercing that still isn't quite healed after a year, it might be time to visit your piercer.

With that clarification in mind - there's another thing that may be holding back your healing time. Chemicals like alcohol, witch hazel, and tea tree oil are very harsh and should never be applied to a piercing. They actually have a drying effect on the piercing site and the skin around it, which can cause further irritation and actually prolong your healing process.

Going forward, I recommend switching to salt/saline soaks right away! Avoid putting any more harsh chemicals on your industrial. I would also make sure to avoid any snags (watch your hair, combs, be careful when changing clothes) and to avoid any unnecessary pressure (hats, hoods, sleeping on your industrial). With a little extra TLC and gentle salt soaks once a day, your industrial should hopefully start to heal up completely.

If after a few more months you're still experiencing issues - time to visit your piercer!


Love,

- Alley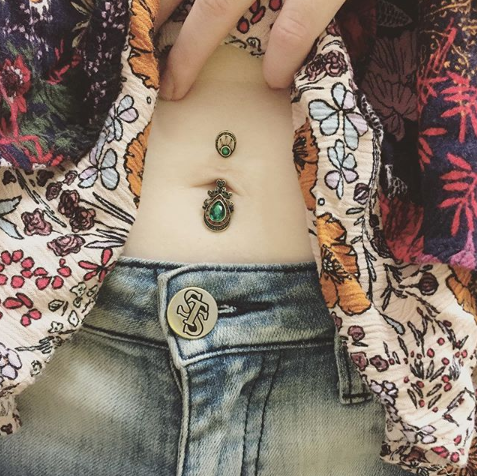 Dear Alley,
I had gotten my belly button pierced sometime in March of 2018. I thought my belly button would be completely healed by now.. is it normal for pus to still be coming out of it?

And how do I know when it's healed completely?

- Ashley
Alley: Hey Ashley!

A belly piercing from 2018 should def be healed up by now... As you know, I'm not a piercer and this is no substitute for medical advice,  but this is actually a good opportunity to discuss some piercing vocabulary - "pus" and "sebum." Gross words, I know - but it's good to clarify between the two:

1.) Pus - Pus is a whitish/greenish/yellowish discharge that occurs at the site of an infection. It is a buildup of dead white blood cells that occurs when your immune system responds to an infection.
2.) Sebum - Sebum is secreted by the sebaceous glands in the skin - in other words, its a fatty, yellowish, oily substance that helps keep your skin and hair moisturized.

It's relatively normal to have a little bit of sebum around your piercing site, and piercings do smell from time to time. It's also possible that you have a sensitivity to a certain jewelry material, in which case, you should explore more inert materials like 14k gold, bioplast, or titanium.

Since everybody's body is different, it's hard to pinpoint exactly when you'll know your belly button piercing is done healing up. It should feel comfortable to the touch and you should be able to change the jewelry out with no issues whatsoever. Here's where you should be concerned: if the discharge starts turning strange colors; starts smelling particularly bad; or you are experiencing pain, discomfort, or redness around your piercing site, it's definitely time to re-visit your piercer.


Love,
- Alley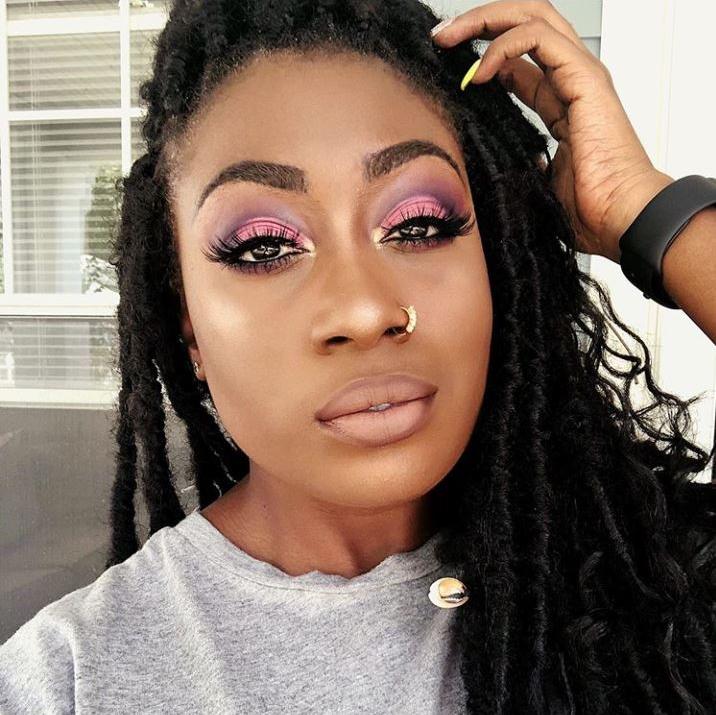 Dear Alley,

I got my nose pierced on January 4th, 2020 and it is now May 1st, 2020. I was wondering is there a way for me to change my piercing for the first time without the pain? 

I was also considering buying the lotus flower nose ring. I was pierced with a 18 gauge needle (which is a 1mm piercing hole) and I was wondering if getting a 10mm will be too big.

Thank you!


- Koya
Alley: Hey Koya!
Quick disclaimer: I'm not a piercer - but most piercing pros say that a nose piercing takes approximately four (4) to six (6) months to heal. You're right in the middle of that time frame - it's possible that your nostril has healed but its equally likely that your nose still has a little bit to go.
It might feel a little funky to change your nose ring for the first time no matter how long you wait... If you're worried about it, give it a few more months to truly heal up and try again.
Now, onto the gauge - you are right, an 18g needle is 1mm in size. That means you should be able to wear anything 18g in your nose piercing. In the case of the lotus nose ring... It happens to be an 18g ring, meaning the width of the metal that you are inserting into your piercing is appropriately sized for your piercing site at 1mm.

The 10mm sizing you are reading about is the diameter of the nose ring; the size of the hoop at its widest point. As long as a 10mm hoop will fit through your piercing and around your nostril, you should have no issues!

Hope this helps :). If you need more clarification on how to get a perfectly-fitting nose ring, check out this blog here.
Love,

- Alley 

Snapchat: bodycandy.com
TikTok:  @bodycandy