C

aring for a Healing Piercing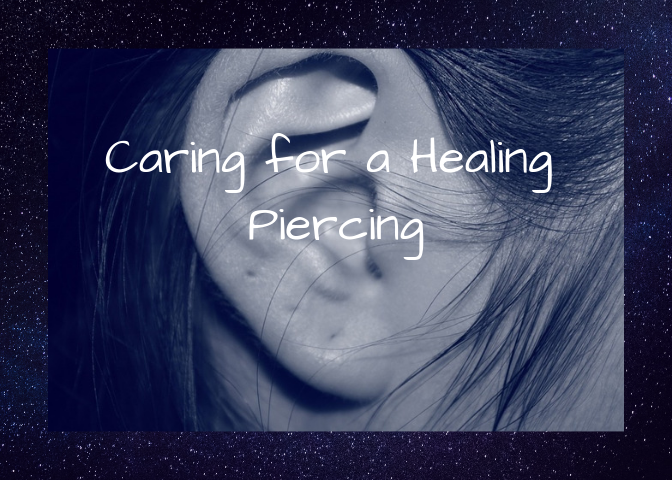 So you've got a fresh new piercing... Congratulations! Now another question remains - how can you best take care of it while it's healing? Don't worry, Body Candy can help!
Disclaimer: Body Candy is only here to offer helpful suggestions for your piercing care... If you develop any medical complications while your piercings are healing, be sure to consult your piercer. They are fully trained and licensed to give you the best, professional medical advice.
Whether its an ear, nose, lip, belly, or nipple piercing, Body Candy is here to help you make the most informed decisions when it comes to healing your piercings.
The Do's:
First of all, keep in mind that a fresh piercing is an open wound and should be considered an injury. You need to keep it clean and avoid introducing bacteria to the site. The best way to do that is to avoid touching your piercing unless you are cleaning it and to ONLY touch it with freshly-washed hands. Here are a few more helpful suggestions to help your healing process along:

Use clean sheets and towels and change both of them frequently.

Clean everything that touches the piercing area - things like hats, glasses, earbuds, headphones, and cell phones.

And do remember take care of the rest of yourself! Get plenty of rest, eat nutritious food, avoid nicotine and recreational drug use, and limit alcohol, aspirin, and caffeine. These can all effect your body's ability to heal.
Cleaning Your Piercing:
When you start the process of healing, some bruising and bleeding is completely normal, as is some yellowish-white crusty goo that isn't pus - it's just discharge. Just gently clean it from the piercing. However, you don't want to clean it too often or you'll actually hinder the normal healing process. Much like everything else in life, a proper balance is important!
The best way to keep your piercing clean is with saline solution... We've also written a helpful blog on sea salt and how to use it to your advantage HERE (how to soak your piercings and how often you should be soaking). From that blog - we've also included a helpful graphic in case you'd like to make your own.
If your piercer says it's okay, you can use a mild, fragrance-free antibacterial/anti-microbial liquid soap. Use it once to twice a day. Let it sit on the piercing for 30 seconds and rinse well. Do not work it into the piercing, just let it sit on it and rinse well afterwards so no traces remain. Then pat it dry with a clean paper towel.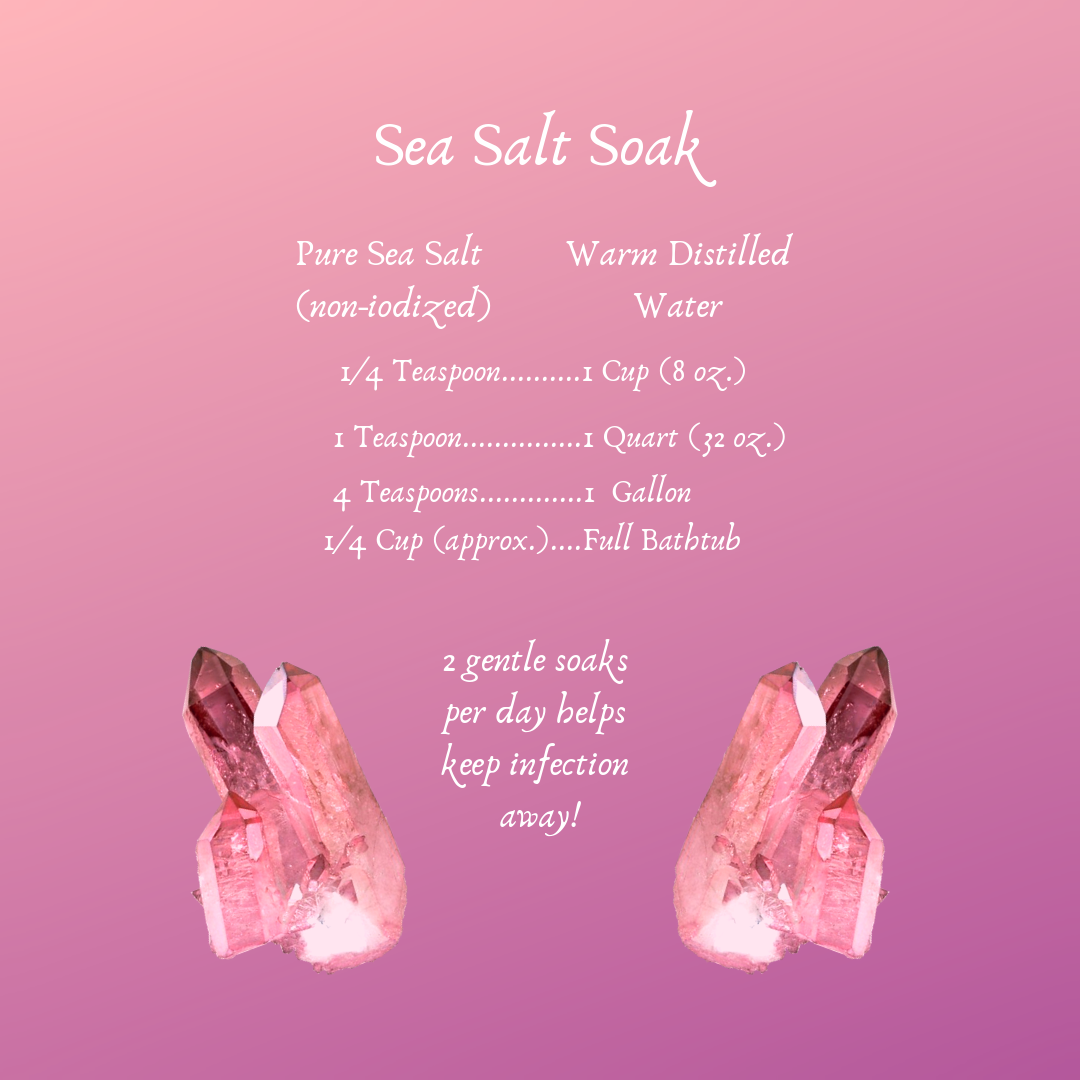 The Don'ts:

Your piercer may recommend anti-bacterial soap as a cleanser for your new mod. If your piercer says it's okay and you choose to use anti-bacterial soap to clean your piercing:
- Don't use any products that contain triclosan, a common antibacterial that can irritate the piercing.

- Do not work the soap into the piercing, just let it sit on it and rinse well afterwards.

- Don't use products containing benzalkonium chloride or wound-care products like Baetadine or Bactine which are irritating to the piercing.
More Don'ts:

- Don't apply antibiotic ointments! These contain petroleum which will create a warm, wet environment that is a perfect home for bacteria.

- Don't go swimming or soak in hot tubs without a secure waterproof covering - this kind of water often harbors unseen bacteria!

- Don't put hygiene products like lotion or makeup near the piercing.
Remember that piercings heal from the outside inwards. Just because it looks healed on the surface doesn't mean that the healing process is complete. Make sure you continue the aftercare routine for the entire recommended healing time and not just when it starts to appear healed.
From all of us at Body Candy - happy piercing!
Snapchat: bodycandy.com
TikTok:  @bodycandy