14k Gold Jewelry
Why You Should Wear Gold In Your Piercings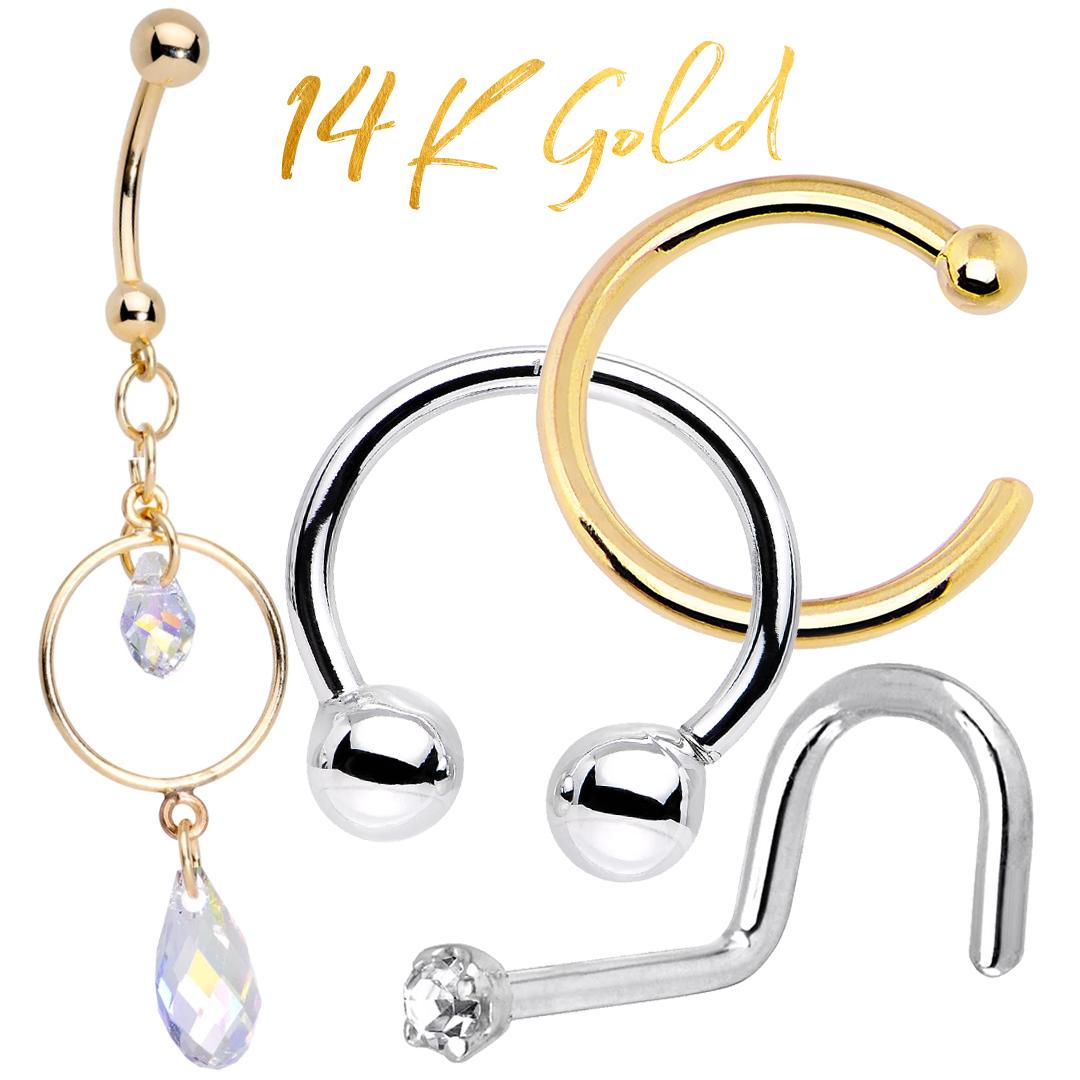 People get pierced for plenty of reasons. But whether you're getting your body modified for aesthetic purposes, for self care, or just for fun, one thing is for sure... Your body piercings deserve the best. 
The word "gold" might make you think of royalty or success, but it's actually a great material for body jewelry for a number of different reasons. Gold is very pliable and malleable, which means an expert can be form and shape it into beautiful jewelry. Decorating yourself with a gold ring is the ultimate way to treat yourself to a high-quality and luxurious experience.
A big misconception is that gold jewelry is too expensive or out of a budget price range, and that's just not true! A beautiful, high-quality 14k nose ring can be had for less than $30 - and Body Candy now offers Afterpay, so you can pay at a rate that works for your budget!

Disclaimer: Body Candy is only here to give you fun and helpful advice and information when it comes to getting pierced. Despite its quality and craftsmanship - gold may not always be the right metal for your body. Always consult a professional piercer to make sure a new piercing material is right for you!

Body Candy's Master Gold Jeweler
Did you know that Body Candy has a master gold jeweler on staff? Yep, our production facility is located in Buffalo, NY, right here in the USA! Our gold department works round the clock to create, set, and hand-polish every single one of our gold items before they head out the door.

Most of Body Candy's gold jewelry is made of either 14k or 18k gold. The "k" stands for "karat," which is the way gold's purity is measured. The purest form of gold is 24k gold.
If you want to understand how pure your gold jewelry is, simply divide the karat weight of your piece by the number 24. For example, if you have a 14k gold piece, divide 14 by 24 and you'll get an answer of .583. That means your 14k gold piece is 58.3% pure. Using that same formula, an 18k gold piece is 75% pure.
After our jeweler creates your amazing 14k or 18k gold barbell, belly ring, or nose ring, it will have you smiling over both quality and price.
White Gold? Rose Gold? Yellow Gold?
Gold is a chemical element known as Aurum (Au) on the periodic table of elements. In nature in it's purest state, gold appears as a yellow metal. By adding different elements like copper, zinc, or silver to the gold, a jeweler can create what's known as an "alloy," or blend of metals. These alloys not only strengthen the gold for continuous wear, but can also tint the metal into different eye-catching shades. In the case of gold, these alloys are most commonly known as "rose gold" and "white gold."
The addition of copper and zinc will give yellow gold a champagne-tinted, rosy blush. Rose gold is a very romantic metal, and makes an amazing material for wedding rings... And especially nose rings! White gold on the other hand is an alloy of gold and a white-ish metal like silver or palladium. You might also notice white gold being coated with rhodium, a precious metal in the family of platinum that will give the gold and ultra-white shine.
Of  course, all of Body Candy's 14k and 18k jewelry comes in these wonderfully unique and beautiful color options. Just know that when you're purchasing a rose gold or white gold body jewelry item, you can rest easy knowing you're still getting the highest level of quality.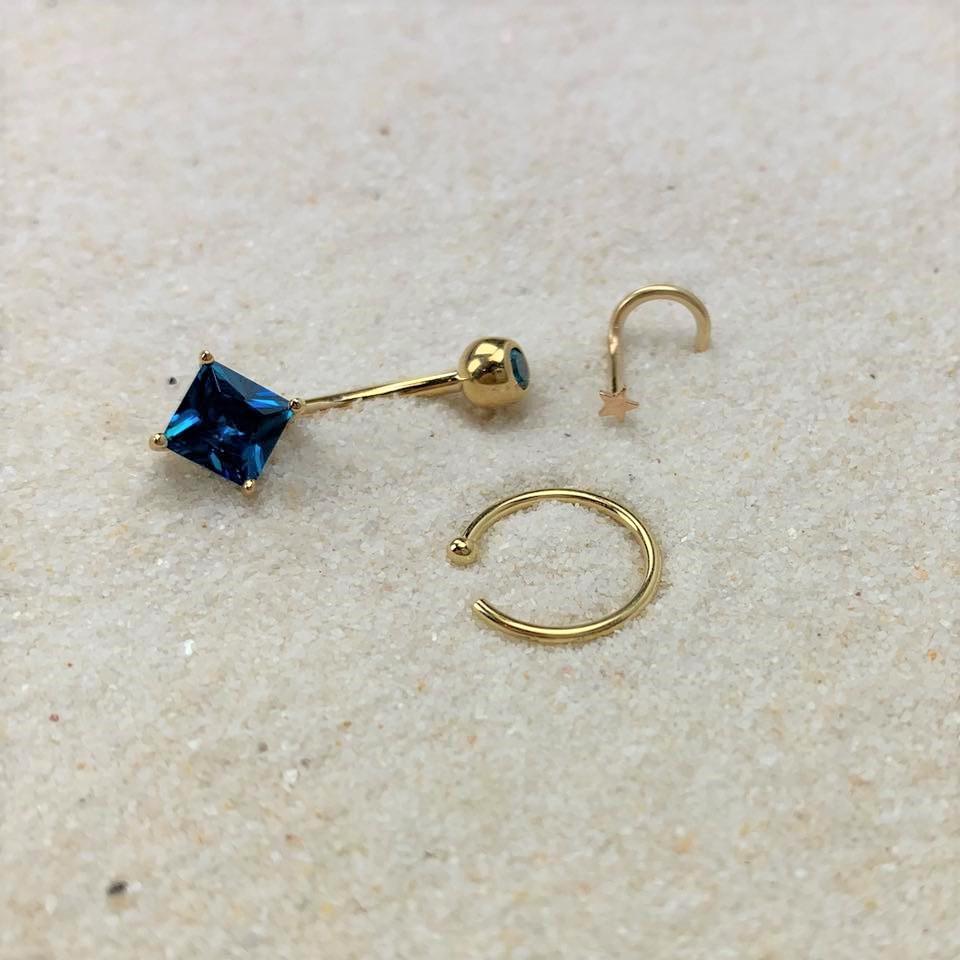 A Lifelong Treasure
If you're like us, you're a lifelong lover of body jewelry and piercings... Why not invest in a piece of beautiful jewelry that will last forever?
Don't get us wrong, variety is the spice of life, and Body Candy is super proud of our status as the biggest and best online body jewelry superstore! Our selection is second than none, and sometimes there's nothing better than swapping out your belly button ring for something new and fun, or coordinating cute jewelry with your outfits from day to day.
Think about your gold jewelry as an investment into your ever-growing collection. Our master gold jeweler makes each gold piece with quality in mind - gold jewelry that is cared for is going to last longer than other, more affordable pieces.

With occasional cleaning at home and a professional cleaning every few years, a jewelry item made of gold will last for generations... You might even be able to pass it down someday as an heirloom! 
Want a sneek peek into how our 14k nose rings are created? Check out the YouTube video below - we've put together a little demonstration on how we craft our gold jewelry in-house. Don't forget that Body Candy also offers 14k and 18k gold nose rings studded with genuine diamonds (and lots of other gems). Get one customized to match your birthstone!

No nose piercing? Body Candy also offers 14k gold nipple barbells; 14k gold horseshoe rings; 14k gold eyebrow rings; 14k gold belly rings; 14k gold lip rings; 14k gold belly rings; and much more! 
Snapchat: bodycandy.com
TikTok:  @bodycandy